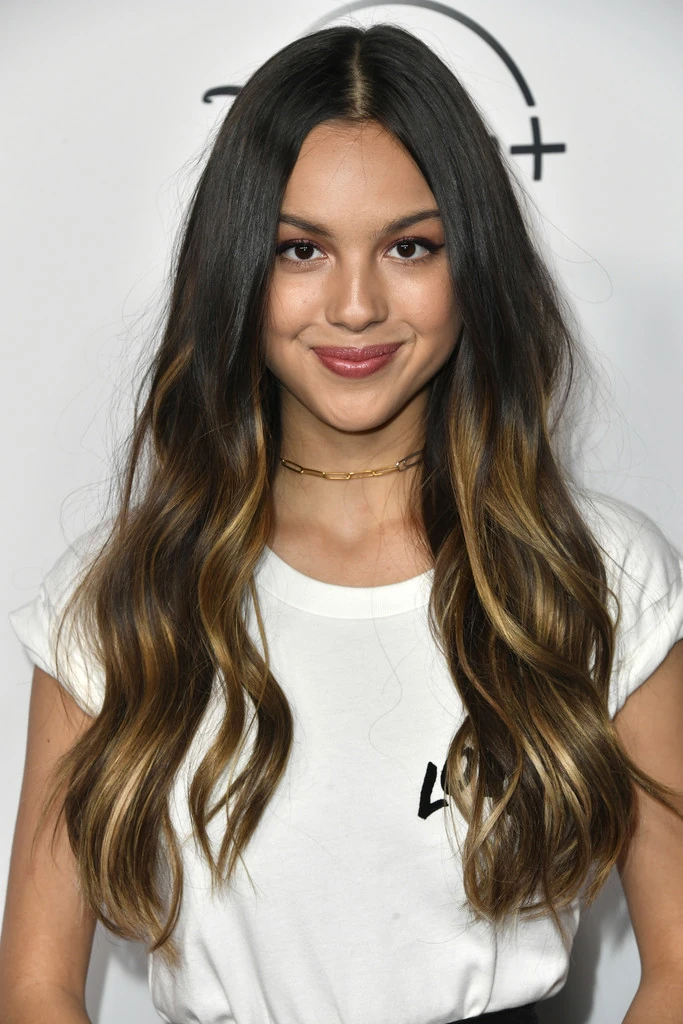 In an intimate performance and conversation in Los Angeles Monday night, Olivia Rodrigo admitted that there were tears shed during the making of her new album, "Guts." But she and producer/co-writer Dan Nigro clarified that it wasn't just about the emotion in the lyrics. Some of those were tears of frustration as they obsessed over songs and struggled to get her all-important sophomore release just right over its 10-month creation.
"We cried just because we were frustrated. We were really toiling," Rodrigo said.
Not that the songs themselves don't bring up strong emotions. In response to a submitted audience question about which compositions took her to that level, the singer said, "I remember bawling when I wrote 'Drivers License'" from the first album, and, from the follow-up, "I feel like I cried writing 'The Grudge.'"
"Most of the recording is you crying," kidded Nigro.
"That's album three, just me crying," she retorted. They then bantered over how they would keep their "Sour"/"Guts" tradition of four-letter album titles going for the next one when "Cries" has five letters in it. "'CRYZ' with a Z at the end," Rodrigo finally proposed, proving that now, as with the loggerheads they sometimes found themselves at making the new record, there's always a solution.
Rodrigo and Nigro joined up for this rare, lengthy, outside-the-studio collaboration for what was billed as "An Evening With Olivia Rodrigo," an American Express-sponsored event at the Theatre at Ace Hotel that had been announced to fans just the day before. The roughly 1,600 cardholders who snapped up the $25 tickets with just an hour's notice of the on-sale knew they'd more or less won the Olivia Rodrigo lottery, given that all the tour dates Rodrigo will be doing next year in arenas 10 times that size sold out just as immediately as tickets for this acoustic performance did.
Attendees at the AmEx event won't get to hoard their impressions of the show to themselves for long, though. The hour-long performance and conversation was filmed by a five-camera crew, and the recording will go up on Rodrigo's YouTube page tonight at at 8 p.m. ET/5 PT, remaining on her page through Thursday. (What fans watching at home won't get to share that those in attendance at the downtown L.A. movie palace did: photo booths, unlimited servings of Midori Matcha — said to be Rodrigo's favorite beverage — and a taco after-party out on the street.)
The exact nature of the show wasn't revealed beforehand, with some (including us) assuming that it would be a solo concert and chat, given that Rodrigo had performed three songs the previous week at the Grammy Museum, expertly and rivetingly, without any accompaniment besides her own guitar and piano. In playing along with her for the full hour at the Theatre at Ace Hotel, Nigro proved to be not just an obviously able accompanist but engaging conversational foil — further publicly establishing the chemistry of a collaboration that's proven so fruitful, it ought to be insured by Lloyd's of London.
The pair were joined by three backup singers and an additional acoustic guitarist/keyboardist for a set that encompassed the "Guts" songs "Vampire," "Lacy," "Ballad of a Home Schooled Girl," "The Grudge," "Teenage Dream," "Get Him Back" and "All American Bitch," with the first album's "Traitor" as a show-ending bonus. In all instances, the performances were framed with information about the writing or recording of the songs, with the emphasis almost wholly on the creative and collaborative process. Although Nigro promised at the start that "we get to tell you stories that will make Olivia very, very uncomfortable," those were all about process, as Rodrigo was not about to hint at people or circumstances that might've prompted the most speculated-about material.
Answering a submitted audience question about nerves, they said, "20 minutes ago, we were really nervous. We were shaking." They'd gotten over it, but that was emblematic, perhaps, of an album creation process that the singer admitted involved a certain level of fear.
"When Olivia and I first met, she couldn't stop sending me ideas and was excited with any songs she wrote," Nigro noted. "Whether it was good or bad, she was like, 'I wrote a song! I wrote a song!' But when we made 'Guts,' I think obviously given all the pressure and the buildup of the success of 'Sour,' things kind of changed and Olivia became a little bit more precious, so…" Rodrigo finished his thought: "I was scared, really scared."
At one point describing a "year" making the album, Nigro later clarified that it was about 10 months from start to finish, with writing and recording taking place over the first eight months and mixing and fine-tuning consuming the last two — although she brought in "Love Is Embarrassing" just five days before the album is due and, against his better judgment, they squeezed it in under the wire.
"Vampire" was one of the first songs written for "Guts" and went so well that it spoiled them for follow-up compositions for a while. As for it being the first single, "I would say it was definitely one of the hardest decisions we had to make together. I definitely lost a lot of hair because of that," Nigro said. "My favorite song, I was outvoted deeply on. I was literally like standing on an island by myself being like, "bad idea, right, bad idea, right"… everyone's like, 'Vampire'! I mean, I get it, actually, why 'Vampire' would work better, but I still, was just really excited about 'Bad Idea, RIght?" and everybody seeing the more sarcastic side of Olivia that I don't think was really apparent" on "Sour."
Even after "Vampire" was selected as her return, "I tortured Dan for so long, for months" about the arrangement, Rodrigo said. "Like, 'No, it's too fast, it's too slow, we need to change it by one BPM.' … We probably have 20 versions of different BPM. And nobody even notices." Added Nigro, "I would get home and talk to my wife and she'd say, 'How was the studio today?' Like, 'Well, we had a philosophical conversation about tempos and speeds of songs for 12 hours, and then we both went home crying. That was the day.'"